Online Real Escape Game "Escape from the Lockdown: The Demon Fortress";
-------------------------------
【Story】
In the world you live in, humanity lives in fear of the demons.
9 heroes headed to the Demon Fortress in order to defeat the Demon King.
The heroes have not been heard from since.
The world will be swallowed by darkness if nothing is done.
One day, your 'Communication Crystal' rings.
In the crystal ball, you see... the heroes who were thought to be dead!
"Finally! It's connected! We've been confined in the Demon Fortress's prison! Please, can you save us? We've found this..."
What the weakened heroes revealed was a map of the prison along with a note with cryptic puzzles.
As the 'Puzzle Solving Hero' you start working right away!
Will you be able to solve all the puzzles within the Demon Fortress, save the heroes, and bring peace to the world?
-------------------------------
・In order to play, you will need a compatible device (a computer or tablet) with internet connection.
For the best experience, we recommend a computer or a tablet with a large screen. You can participate with your smartphone, but it may be difficult with a small screen.
・Since this is an online event, the quality of the videos may vary depending on your internet connection.
We can not make any guarantees regarding this.
・You will be watching videos throughout the gameplay. Check this page to ensure that you can view the videos prior to your ticket purchase.
https://realescapegame.jp/lockdown_village/movie.html
-------------------------------
【How to Play】
① After purchasing a ticket, you can find your unique game URL listed under the section "My Bookings" of your account page.
*How to view your "My Bookings" on a computer:
You can access it by clicking the "My Bookings" tab at the top of the page.

*How to view your "My Bookings" on a smartphone:
Click the button at the top right with the horizontal lines to open the menu bar.

Select "My Bookings" from the list to access the page.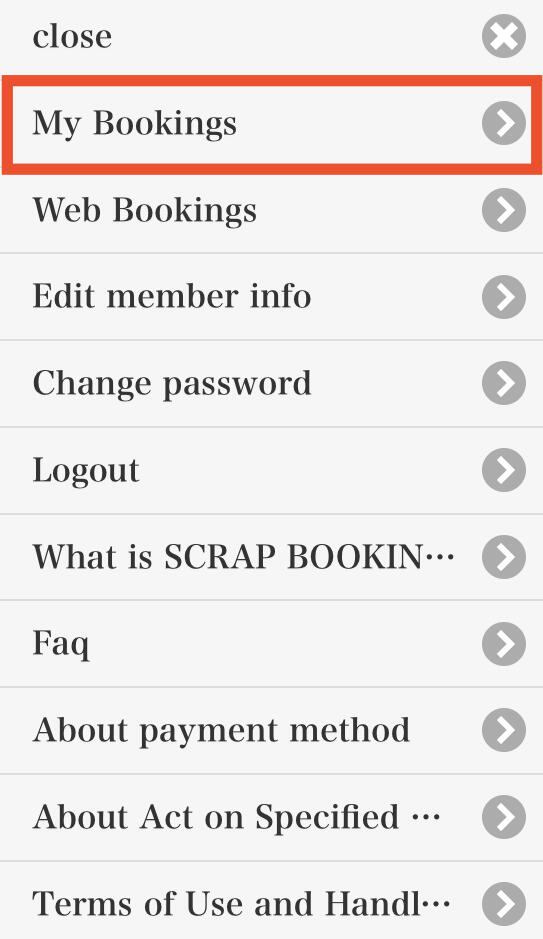 ② Click the URL to access the game page and begin playing!
【 If you are playing with friends 】
・ If you are playing as a group, please make sure that every player purchases a ticket each.
You can each buy a ticket using your own account, or get a representative to buy everyone's tickets on their account.
If a representative buys all the tickets, they will receive unique game URLs for everyone.
Please share each unique URL with the other players.
・You will need to use an app such as ZOOM or LINE that can hold a group call for communication purposes within your group during the game.
【 Important Points 】
*After a ticket is purchased, refunds will not be issued in cases where there are technical problems with the customer's computer, phone, or device. We seek your understanding on this.
*Reselling of tickets or unique game URL for business purposes is prohibited under any circumstances.
*Only one person can access each unique game URL.
It will not load if more than 1 person tries to access the same URL.
*All call and communication costs incurred between players will be your own responsibility.
*Once purchased, you can play the game at any time and date within the event period.
*The ticket price is displayed in Japanese Yen, but you can purchase it from anywhere in the world
and your card will be charged in your local currency after exchange rate is applied.
☆Payment Methods
■Credit Card Payment
 VISA、Master、JCB、AMEX、Diners 
○ Available △ Only a few × Sold Out -- No Handling ※ Status at the time of display.
| Event start time | Booking Status | Book |
| --- | --- | --- |
| Friday, Feb 19, 2021 23:00 ~ | ○ | Book |